An Archive of Sold Items
Everything in this section is for reference only. All items have been sold.
SIBYL DUNLOP (1889 - 1968)
Superb 'Carpet of Gems' Bracelet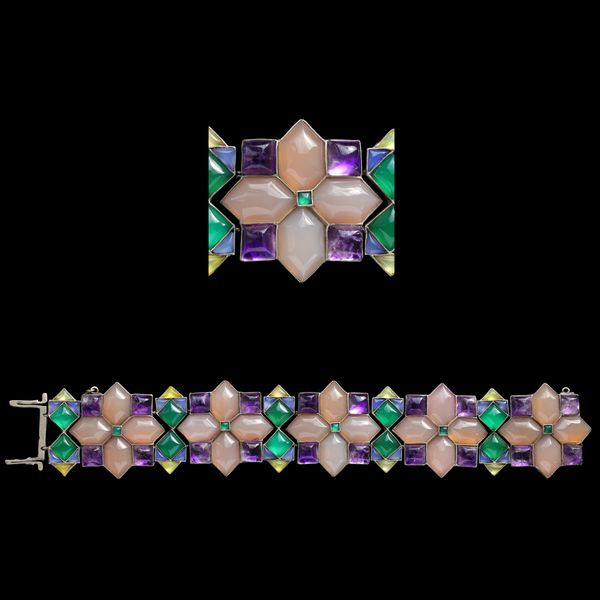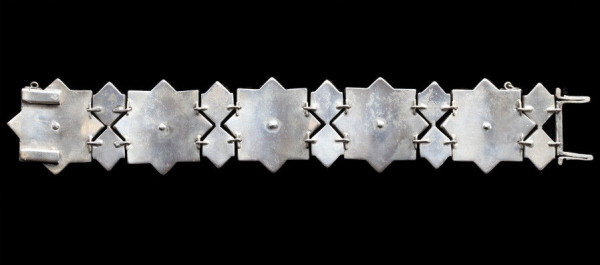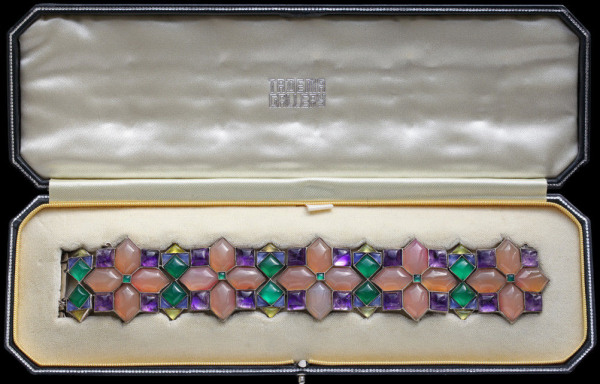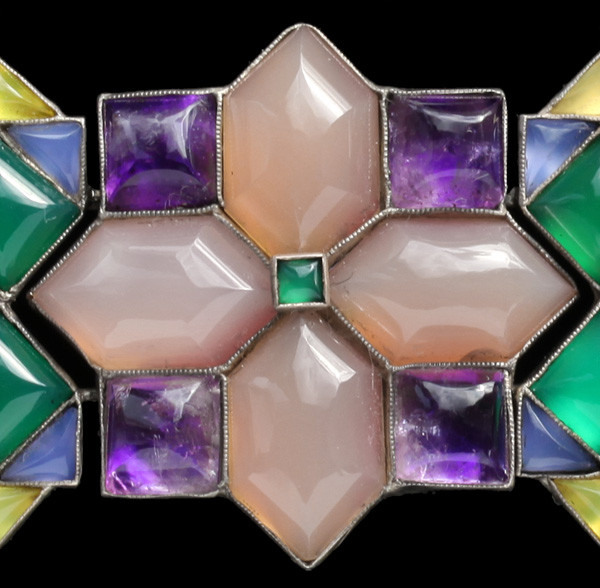 Back
SIBYL DUNLOP (1889 - 1968)
Superb 'Carpet of Gems' Bracelet
Silver, chalcedonies, amethysts
H 3.30cm (1.30 in) | W 20.50cm (8.07 in)
| | |
| --- | --- |
| Origin | British, c. 1930 |
| Case | Fitted Case |
THE SIBYL DUNLOP ""CARPET OF GEMS"" STYLE Sibyl Dunlop jewellery and silverware, was mostly made, or supervised by Bill Nathanson. He sometimes referred to one of the design features of Sibyl Dunlop pieces as their ""carpet of colours"" or ""carpet of gems"" look. The key aspects of this look are: 1. A repeating pattern of closely interlocking stones that are set in collets with a single wall to hold adjacent stones. 2. The stones used in this way were cut in standardised sizes, colours, and shapes so that they could always be combined, and included more unusual shapes such as crescents, claws, chevrons, kite shapes, and triangles. This system of cutting stones dates from the late 1920s, and the ""carpet of gems"" look arose soon after. By the mid-1930s wide bracelets and neckpieces had been made in this way, as well as brooches, with elaborate carpet of gems patterns. Designs based on patterns of interlocking stones were never more than a small part of the firm's output.
Literature
Illustrated in our book:
Beatriz Chadour-Sampson & Sonya Newell-Smith, Tadema Gallery London Jewellery from the 1860s to 1960s, Arnoldsche Art Publishers, Stuttgart 2021, cat. no. 575
Helen Ritchie Designers & Jewellery 1850-1940, Jewellery and Metalwork from the Fitzwilliam Museum, 2018, pp. 138-9 biography
Collections
Include: The Victoria & Albert Museum, London; The National Museums Scotland & The Fitzwilliam Museum, Cambridge
Ref No 7582
Sold
CALL DEALER