JOHN HAUGHTON MAURICE BONNOR (1875 - 1917)
Superb Arts & Crafts Necklace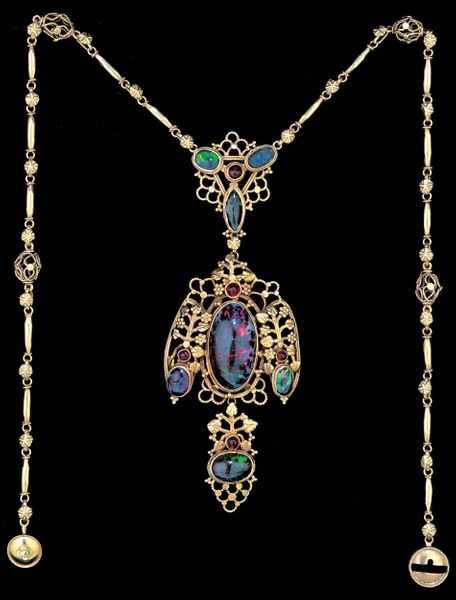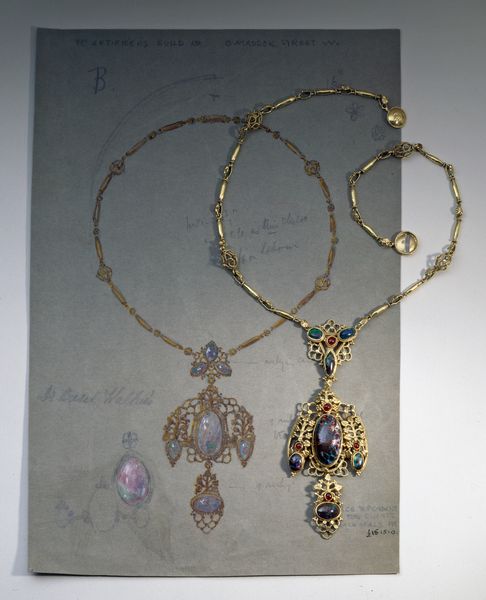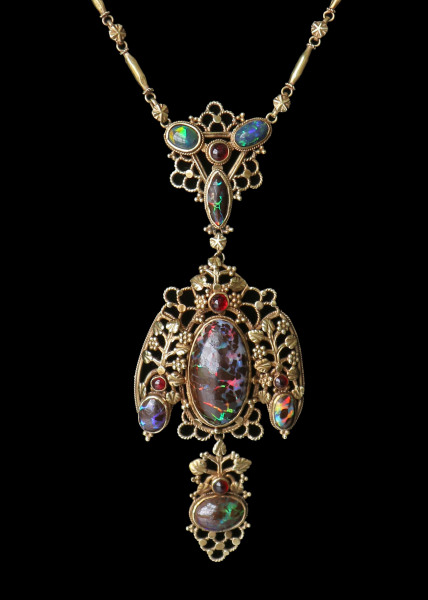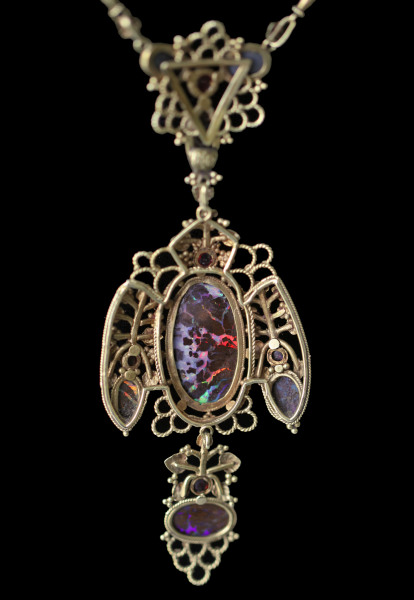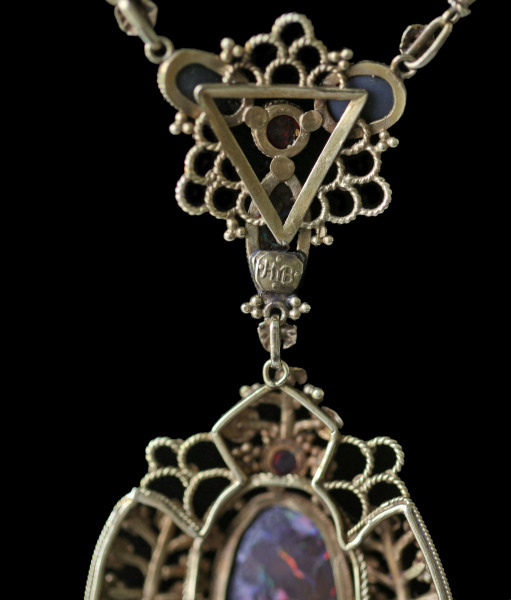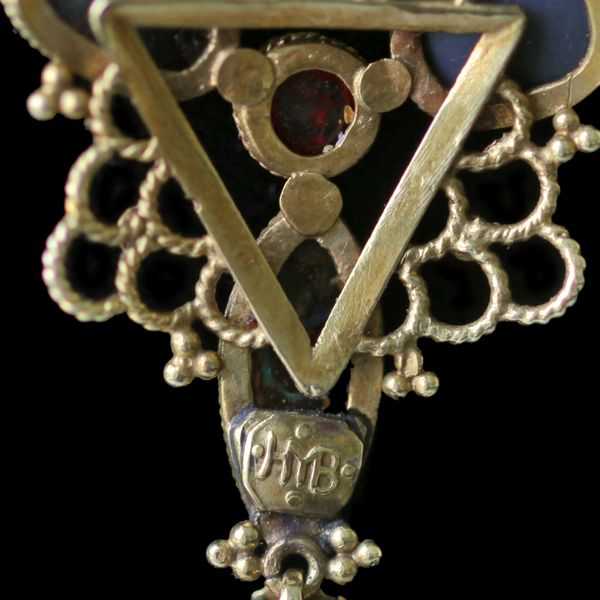 Back
JOHN HAUGHTON MAURICE BONNOR (1875 - 1917)
Superb Arts & Crafts Necklace
Gold, opal, ruby
H 10.30cm (4.06 in) | W 3.80cm (1.50 in) | L 43.50cm (17.13 in)
| | |
| --- | --- |
| Origin | Welsh, c. 1905 |
| Marks | Signed verso: 'JHMB' artist's monogram |
| Case | Fitted Case |
| Condition | Excellent. No perceivable wear or damage to the gold work. Black opals from Yowha Queensland with most showing light surface crazing typical of opals of this age over 100 years old. |
| Weight | 31.20 Grams |
We feel this piece can easily hold its place alongside the other great Artificers' Guild jewels by Edward Spencer, John Paul Cooper & Henry Wilson.
Provenance
An unsigned design drawing for this necklace is in the Artificers' Guild archive belonging to the Goldsmiths' Company. It differs slightly from the finished necklace but pencil annotations on the sketch show the addition of the rubies and confirm that the opals belonged to the client.

Literature
Illustrated in our book:
Beatriz Chadour-Sampson & Sonya Newell-Smith, Tadema Gallery London Jewellery from the 1860s to 1960s, Arnoldsche Art Publishers, Stuttgart 2021, cat. no. 155
cf. Jewelry & Metalwork in the Arts & Crafts Tradition,
Elyse Zorn Karlin, 1993, page 43
British jeweller John Houghton Maurice Bonnor (1875-1917) trained as an architectural draughtsman before being taught by Henry Wilson, with whom he forged a lifelong friendship, at the Central School of Arts and Crafts. From 1905, he was head of the metal workshop at the Artificers' Guild before setting up his own metalwork, jewellery and stained glass, mosaic and sculpture studio with his wife, Nancy Agar, in 1908. For further information see "John Houghton Maurice Bonner: A little known designer of the Arts and Crafts Movement", by Muriel Wilson, The Journal of the Decorative Arts Society 1850-the Present, No 28 (2004), pp. 108-125.

Ref No 8345

CALL DEALER