An Archive of Sold Items
Everything in this section is for reference only. All items have been sold.
FRANCES BECK & ERNEST BLYTH
Pendant Necklace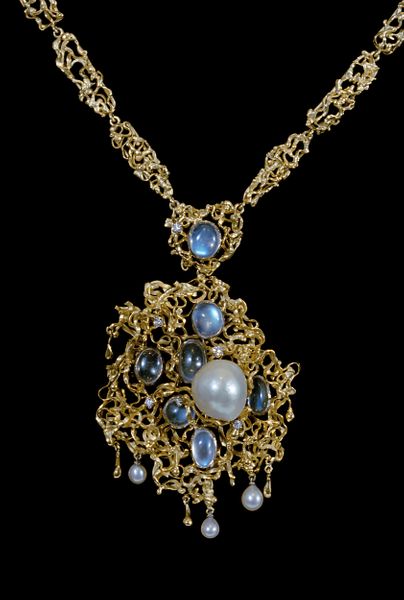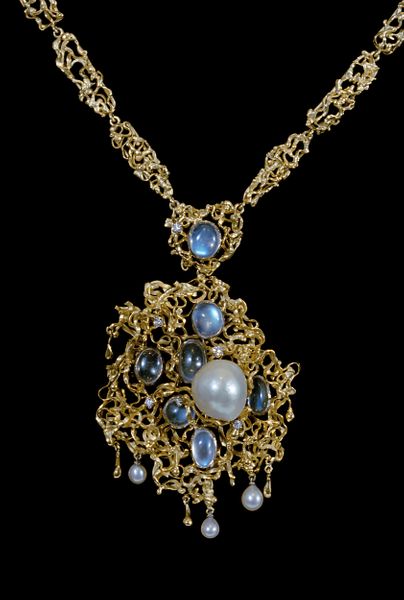 Back
FRANCES BECK & ERNEST BLYTH
Pendant Necklace
Gold, moonstones, pearls, diamonds
"We share a fascination for the immense possibitlities in the working of gold, and are particularly interested in surface textures. We are constantly experimenting with the treatment of gold, in order to achieve new effects. We both feel that a piece of jewelry should be sufficiently bold to create an immediate impact, but, at the same time should be rich enough to sustain the mystery which we consider to be essential to all jewelry.
"Most of the jewelry which we produce is the result of an initial idea of either one of us, but as a result of discussion, suggestion and criticism, the completed piece is often in fact a joint work.
"We have, however, distinct individual styles, Ernest tending to design bolder pieces and Frances designing lighter almost frothy pieces"
Frances Beck & Ernest Blyth.
Literature
Illustrated in our book:
Beatriz Chadour-Sampson & Sonya Newell-Smith, Tadema Gallery London Jewellery from the 1860s to 1960s, Arnoldsche Art Publishers, Stuttgart 2021, p. 378
Peter Hinks, Twentieth Century British Jewellery 1900-1980, Faber and Faber, 1973, pp.139-40, about Beck & Blyth.
Ref No 10111
Sold
CALL DEALER