An Archive of Sold Items
Everything in this section is for reference only. All items have been sold.
Edith Linnell - Arts & Crafts Brooch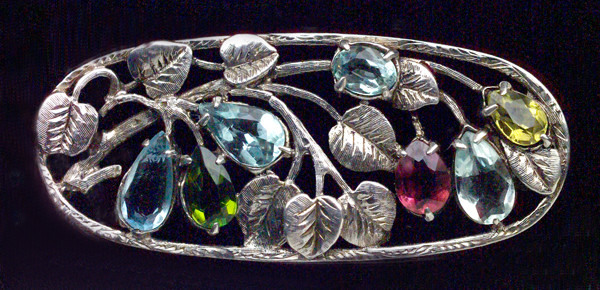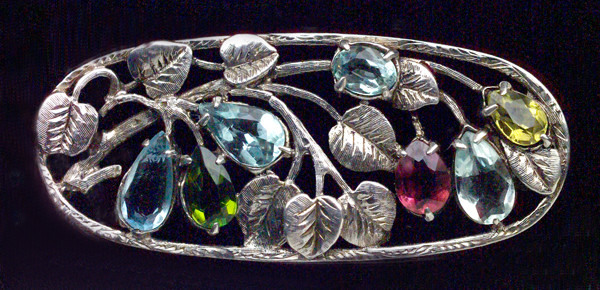 Back
Edith Linnell - Arts & Crafts Brooch
Silver Tourmaline Aquamarine
W 5.00cm (1.97 in) | L 2.10cm (0.83 in)
| | |
| --- | --- |
| Origin | British, c. 1930 |
| Case | Fitted Case |
Arts & Crafts 1920 Brooch
Literature
The Art Jeweller Edith Linnell originally intended to be a portrait painter. She successfully experimented with jewellery making in the early 20th century; her works received a medal and were purchased by the Board of Education for permanent exhibition at the Victoria and Albert Museum. Her jewellery was naturalistic in design based on her years of study as an artist drawing from nature. Her travels worldwide enabled her to source gemstones for her designs. Originally based in the Burlington Arcade Edith Linnell later established premises at 188, Sloane Street; she also exhibited at the Arlington Gallery, 22, Old Bond Street and had showcases in Harrods and on RMS Queen Mary. The advent of the Second World War saw the end of her business when her Sloane Street premises were bombed during the blitz. The Studio Year Book of Decorative Art 1909, p.147 lists: ""LINNELL, Mrs. Edith M., Malvern-bury, Oakland Road, Moseley, Birmingham. ""Mrs. Linnell is a designer of and worker in jewelry, gold and silver. She exhibited at the last exhibition of the Arts & Crafts Society in London, and at St. Louis, the Baillie Gallery, London, The Albert Hall, London, and the Walker Art Gallery, Liverpool""
Ref No 6232
Sold
CALL DEALER