An Archive of Sold Items
Everything in this section is for reference only. All items have been sold.
SIBYL DUNLOP (1894 - 1968)
An Opulent Double Sided Pectoral Cross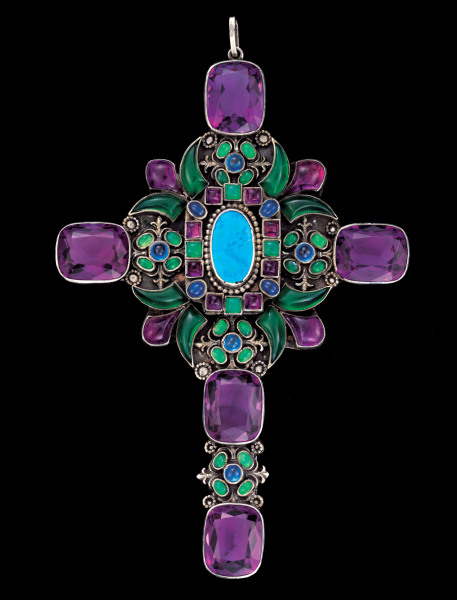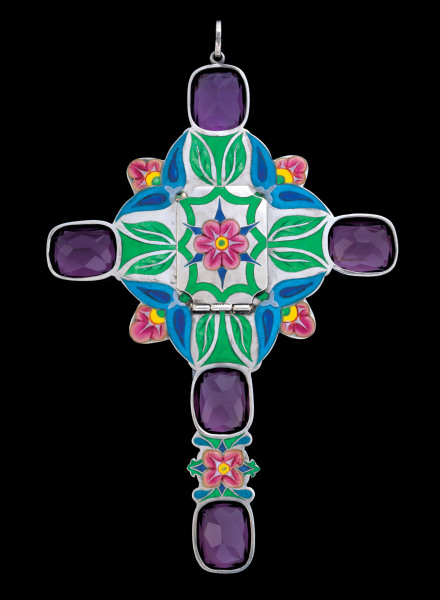 Back
SIBYL DUNLOP (1894 - 1968)
An Opulent Double Sided Pectoral Cross
Silver, opal, chalcedonies, amethysts, sapphires
H 11.80cm (4.65 in) | W 7.40cm (2.91 in)
| | |
| --- | --- |
| Origin | British, c. 1930 |
| Case | Original Fitted Case |
| Condition | Very good |
A double sided pectoral cross with reliquary
The reverse of the cross is decorated in champleve enamel by Henri de Koningh. In the centre is a hinged compartment for the relic.
This jewel is a superb example of Dunlop's 'carpet of gems' style.
Fitted case, the silk marked: 'Sibyl Dunlop, Art Jewellers and Silversmiths, 69 Church St, Kensington, London, W'.

Literature
llustrated in our book:
Beatriz Chadour-Sampson & Sonya Newell-Smith, Tadema Gallery London Jewellery from the 1860s to 1960s, Arnoldsche Art Publishers, Stuttgart 2021, cat. no. 306
The Grosvenor House Art & Antiques Fair, 2003, Handbook, Published in association with Harpers & Queen, Silver, Jewellery & Objects de Vertu, Tadema Gallery, Stand 28, illustrated p. 270.
Helen Ritchie Designers & Jewellery 1850-1940, Jewellery and Metalwork from the Fitzwilliam Museum, 2018, pp. 138-9 biography & illustrated cat. no 67 the reverse illustrated p. 156
Britain between the Wars 1918-1939, Microcosm of an Age, The Fine Art Society, 2004, Illustrated p. 71, cat no 92.
Erika Speel. Dictionary of Enamelling, History and Techniques, Ashgate, Aldershot 1997, pp. 36-7 for Henri de Koningh.
Collections
Acquired by The Fitzwilliam Museum, Cambridge
Ref No 4040
Sold
CALL DEALER