An Archive of Sold Items
Everything in this section is for reference only. All items have been sold.
AMERICAN RENAISSANCE
An Important Bib Style Necklace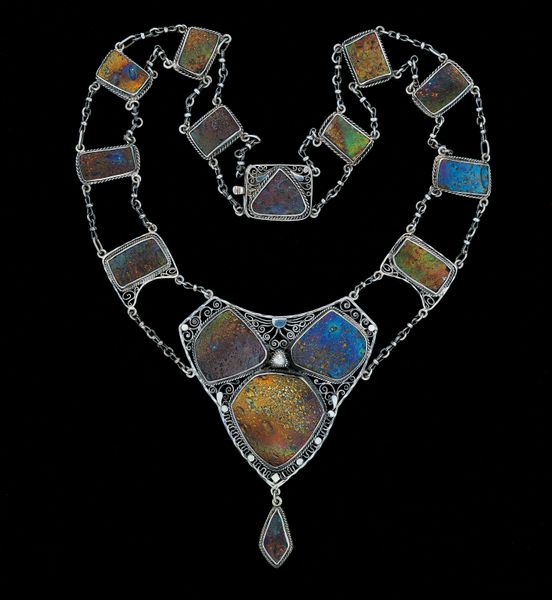 Back
AMERICAN RENAISSANCE
An Important Bib Style Necklace
Silver with filigree decoration, 0.5ct triangular cut rose diamond with plaques of Tiffany "Cypriote" glass
H 8.70cm (3.43 in) | W 6.30cm (2.48 in) | L 44.00cm (17.32 in)
"The necklace is very interesting and of significant importance. It is in the form of an Etruscan style "bib" necklace like many of the pieces of early jewelry produced by Louis C. Tiffany. (See "Louis Comfort Tiffany at Tiffany & Company", Abrams 2002, p. 40)
Also the method of working and style of metal work is identical to work either done by Tiffany himself or under his close supervision. The over all style of the piece relates to much of Tiffany's early work in the decorative arts with Associated Artists and Tiffany Glass and Decorating Company prior to 1900, and particularly to the well documented interiors for the Havemeyer house at No.1 East 66th Street in New York ca. 1891. Interestingly the "Cypriote" glass fragments used in this necklace appear to be from the very early experimental " Cypriote" and "Antique" glass of around 1895-1898 which had an over-cooked and burned look and often colorful rainbow iridescence. Louisine Havemeyer was very fond of this early Tiffany glass and had several pieces in her collection. ( Metropolitan Museum of Art 96.17.13)
Tiffany himself collected early Roman glass and tried to achieve the look of this ancient glass in Favrile glass throughout its production. He was also very interested in the ancient Etruscan and Greek jewelry at the Met and other collections. The use of wave pattern in silver around the largest piece of glass is identical to several pieces of LCT produced jewelry and sold at both Tiffany Glass and Decorating Company and later at Tiffany Studios,( including one in our collection that also incorporates Favrile glass and is signed in the silver L.C.T.) Tiffany incorporated Favrile glass in jewelry (turtlebacks, scarabs, "cypriote" and damascene decorated). I would think that the present piece of jewelry was made or designed by Louis C. Tiffany for either a member of his family, for an early client, close friend or associate. It is in keeping with his artistic aims and style.
Perhaps it was made for the Havemeyer family, Candace Wheeler, Samuel Coleman's wife, his own wife or daughters (one of whom lived here in London in later life)" Dan Robinson, Chairman of examiners in the History of Art Syllabus.
Tiffany collector since 1971.
Literature
llustrated in our book:
Beatriz Chadour-Sampson & Sonya Newell-Smith, Tadema Gallery London Jewellery from the 1860s to 1960s, Arnoldsche Art Publishers, Stuttgart 2021, p. 263
The Grosvenor House Art & Antiques Fair, 2004, Handbook, Published in association with The National Magazine Company Limited, Silver, Jewellery & Objects of Vertu, Tadema Gallery, Stand 21, illustrated p. 265.
Ref No 4104
Sold
CALL DEALER